Nearshore staff augmentation is a novel approach to staffing that allows companies to build world-class teams. It helps companies build new teams without actively recruiting new employees. Simply put, staff augmentation is a cost-effective way to expand your in-house staff without the usual financial burden or recruitment hassle. Unlike the standard approach to recruitment, this option allows you to scale your staff while incurring zero infrastructure investment. There's no call to expand your office space, and it won't bog down your HR with additional administrative tasks.
Staff augmentation has one simple goal: to let you get the job done. With staff augmentation, you get to onboard a team of highly skilled experts, customized to your liking – skills, expertise, experience, and more. In fact, it's the equivalent of getting a small army of trained engineers overnight – well within a week or two. No more painstaking wait. Or wading through a mountain of subpar applicants. Or jumping through the usual recruitment hurdles. You simply cut to the chase and build a stellar team, then hit the ground running.
Nearshore staff augmentation services have an international focus. The greater reach means they draw from an immense pool of qualified candidates. Each candidate is carefully vetted to ensure they're suitable for the role. Given the size of the pool, staff augmentation services only work with the crème de la crème of a global workforce.
Nearshore Staff Augmentation Approach
Staff augmentation is an increasingly popular way for companies to fill their IT needs in a competitive job market. It entails recruiting outside personnel to temporarily bolster your capacity to power through a new project or handle a seasonal spike. Augmentation is also the perfect solution for companies grappling with talent shortage or keen to maintain a lean in-house staff in the face of growing demand.
You can also opt for staff augmentation if you wish to quickly launch a series of new projects and capitalize on a narrow window of opportunity. Since the outside personnel is highly skilled and vetted, they'll quickly swing into action following a short orientation. It's the perfect way to gain a decided edge in a highly competitive market.
At ParrallelStaff, we understand the limitations of conventional recruitment and have refined staff augmentation to an art form. Our seamless processes enable us to provide you with a skilled and talented IT specialist in record time. Indeed, our team of experts is ready to augment your team, enhance your IT projects, or start one from scratch. In a manner of speaking, we'll supply you with a team that's locked and loaded and ready to go. We aim to help you achieve your business goals quickly by ramping up your productivity.
Related Post 👉 The Benefits of Remote IT Staff for Your Business Growth in 2023 
Is Staff Augmentation Right for You?
Staff augmentation lets you grow your team without the hassle of onboarding new hires and the associated costs. It's an innovative solution to a dynamic and fast-paced business environment with rapidly closing windows of opportunity. Best of all, staff augmentation is a flexible solution that lends itself to the needs of a diverse range of companies and projects.
Virtually any company can benefit from the ability to grow its production team and ramp up productivity without recruiting more in-house employees.
You're an ideal candidate for IT staff augmentation if:
Your in-house team is working full steam ahead on a project but could use additional help to ensure its timely completion and time to market. But you can't ramp up capacity since qualified candidates are hard to find due to a scarcity in the local job market.
The nature of the project doesn't warrant onboarding freelancers. It's more prudent to work closely with the outsourced team following your set standard operating procedures.
You wish to issue specific directions to the remote team and apply your in-house managerial protocols. Unlike other types of outsourcing, staff augmentation grants direct access to the people working on each project.
You wish to lower your production costs by working with the remote team that could potentially become part of your IT team.
Innovative Approach to Staffing
At ParallelStaff, our innovative nearshore staff augmentation approach lets you build world-class teams in a week or less. We facilitate a quick and efficient, not to mention a risk-free way to build new teams. Besides enhancing your capacity, our IT resources and employees will bolster your productivity.
All ParallelStaff remote resources comprise top-notch professional Latin Americans with flawless English mastery. As a client, we enable you to tap into a rich and diverse marketplace brimming with hyper-talented software engineers.
Whether you're seeking a team for long-term cooperation or looking to manage a production blip, we can help. Our nearshore staff augmentation service is primed to help get the right people at a moment's notice. With ParallelStaff, you can easily broaden your recruitment scope to get the best talent while saving time and resources. We can guarantee highly skilled IT engineers with exceptional work ethics ready to help you take on any project. Whether starting a project from scratch or continuing an existing one, our team will see it to completion. We take pride in our less than 5% resource annual attrition rate. Our engineers are in it for the long haul and won't abandon you at the 11th hour.
Related Post 👉 Bridging the Skills Gap with IT Staffing Solutions
Our Onboarding Process
We've drilled down our onboarding process into four simple steps to help you get started.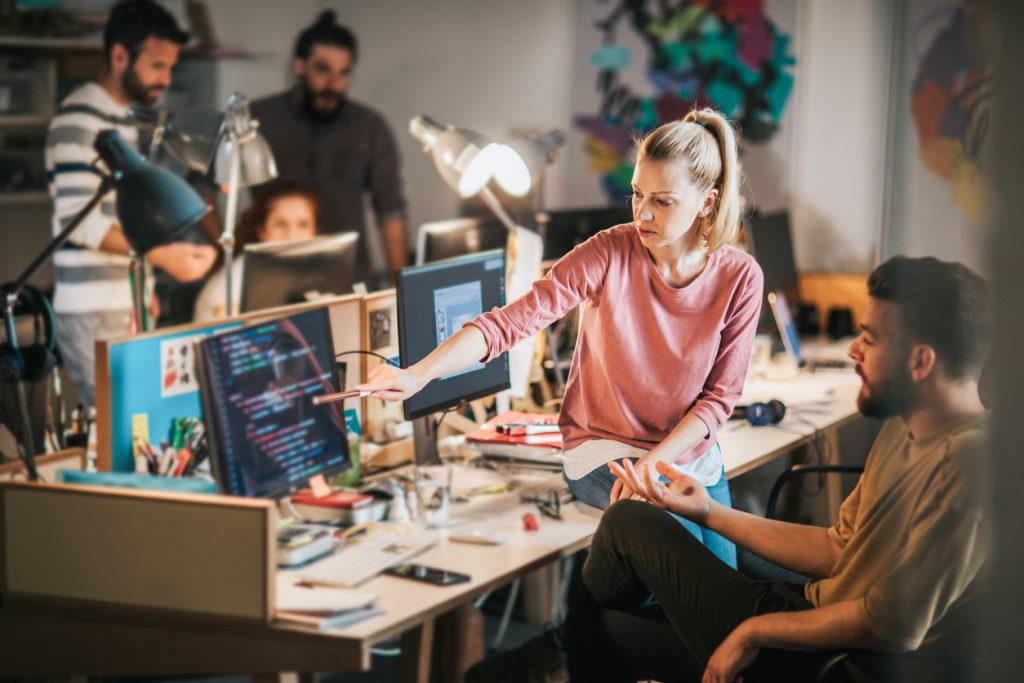 Scoping your talent needs: A dedicated team will sit with you to explore the scope of your projects and talent needs. The goal is to identify the type and number of resources you need and their qualifications. You can be as exacting with your qualifications – language, skills, experience, projects, etc. – as you deem necessary. Explicit specifications accelerate the process of identifying the most qualified candidates for the role.
On-site screening. Once we have your specs, we embark on screening the candidates for your new team. We interview potential candidates and take them through a rigorous process to ensure they're the right fit for your needs. Our interviewing process is intense and is designed to deliver a perfect candidate match. Providing candidates who meet your expectation is a top priority because we're committed to your success.
Onboarding. Once we've assembled your team, ParallelStaff project managers embark on training and orientation. Our staff handles the onboarding on the D-day to ensure all candidates are up to speed about the project's specs plus your expectations. We are on hand to help integrate the new team and provide them with the necessary resources.
Integration. ParallelStaff assigns dedicated project managers to each nearshore staff augmentation team. We will nurture and support your remote team through the life of each project. Our goal is to cultivate partnerships with each client while providing valuable resources to achieve their goals. Ongoing support minimizes friction and ensures steady progress so you can hit every milestone, often with time to spare.
The ParallelStaff Advantage
We understand and appreciate the nature and value of disruptive technology in the business market. Leveraging the opportunities that arise is time-sensitive and requires the right skills.
We've amassed a rich pool of talented IT engineers from Latin America under one roof to eliminate talent shortage, history. Our clients never contend with staff or skills shortages whenever they need additional engineers.
Our engineers are in the same time zone. Collaboration is key when working with remote teams and our engineers are available in four different time zones – pacific, Arizona, Mountain, and Central Time. They only need a slight adjustment to be available at your time zone so you can have your entire team working in concert.
Prepped and ready to go. All our IT engineers are qualified, skilled, experienced, and raring to go. We can build an entire team in 5 business days or less to help you launch faster, smarter, and get to market faster. Yet, we can bring them to you. Each engineer has a valid passport and tourist visa allowing them to stay and work in the US for six months.
Diverse and experienced talent pool. Each engineer packs at least five years of professional experience under their belt. They have skills and qualifications in three or more related technologies. We cater to all software engineering specialties, from full stack developers to projects managers and everything in between.
Our nearshore staff augmentation client roster features some of the biggest names in the business world. We hone our expertise with each project and leverage that knowledge to help our clients scale the heights of success.
Related Post 👉 Why ParallelStaff?
Build Your Nearshore Staff Today!
Need a team of diverse software engineers to bolster your capacity? Let us furnish you with top-rated engineers dedicated solely to your projects. We can augment your in-house team with an exceptionally motivated yet affordable team in 5 business days.
At ParallelStaff, we're committed to helping your get superior IT talent without breaking the bank. We give you access to a carefully vetted database with more than 50,000 software engineers in Latin America. ParallelStaff's Nearshore Outsourcing Solutions eliminate geographical barriers during your quest for talented engineers. Why settle when you can have an army of best-in-class at your service with a moment's notice?
Augment your team with top-notch talent. Call us today at (+1 (415) 906 3458)! Or schedule a call with our team of experts.
Latest posts by Mike Hernandez
(see all)