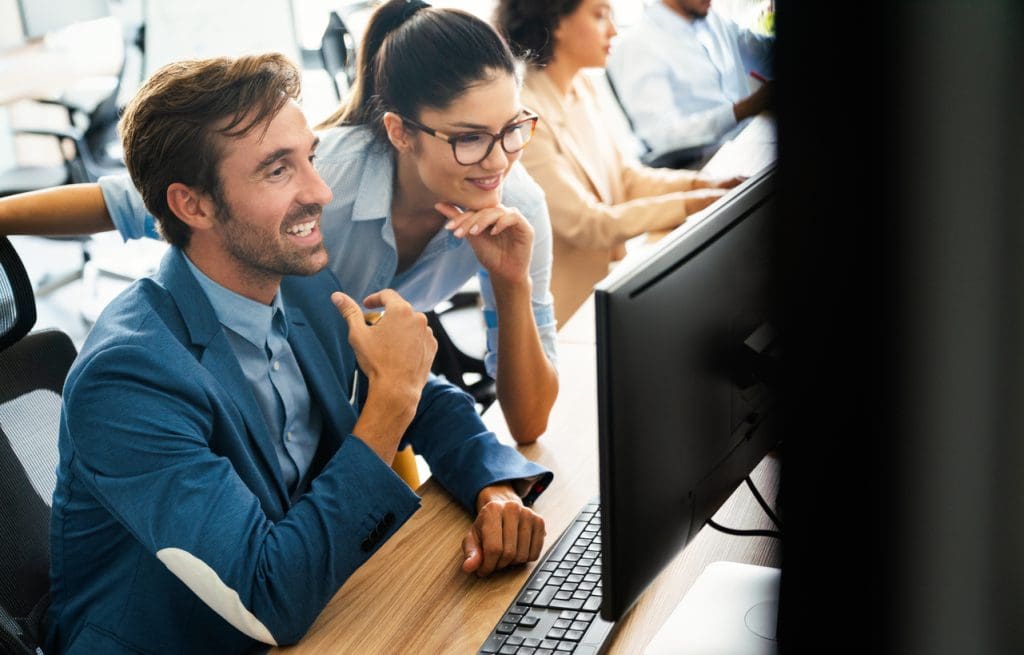 With the right IT outsourcing, you can augment your team's current capabilities without undertaking the expense and productivity drag of hiring new internal teams. According to the Harvard Business Review, "It typically takes eight months for a newly hired employee to reach full productivity." Combined with turnover, tight domestic labor markets, and the immediacy of timelines for completing customer-facing projects and customer service capacities, most organizations simply don't have the time or money to focus on hiring new internal personnel.
Even without those negatives, the value simply isn't there for small and mid-sized organizations. Outsourcing offers more flexibility, greater access to niche expertise or localized knowledge around the globe, and a more dynamic team size that facilitates seasonal activity or infrequent projects. If you're reading this article, you already know that outsourcing is a great fit for your organization's needs. But the question remains: what type of IT outsourcing will maximize that value and bring the most benefits? Here, we'll discuss:
Different types of outsourcing
How to determine which drivers are a priority for your organization so you can pick the best fit
Which types of IT outsourcing work best for different needs
Different Types of IT Outsourcing in the United States
There are dozens of different types of outsourcing, with IT just one of the myriad options. Similarly, there are multiple different modes and types of IT outsourcing that companies across the United States use. Consider these different models to start thinking about what aligns most with your organizational needs:
Outsourcing Options Based on Location
One way of categorizing different types of IT outsourcing is the location of the outsourced team to your main office. There are three main location-based types: off-shoring, nearshoring, and onshoring.
Off-Shoring
Off-shoring used to be the main type of outsourcing that came to find for anyone thinking about outsourcing. It would involve hiring third-party teams far away from the main company location. Organizations in the United States would hire teams in countries like India, China, and Vietnam. These far-away countries offered (and may continue to offer) sizable advantages, but one of the primary drivers was cost. Average wages and salaries in these countries are far lower than in the United States, so off-shoring lets companies save money without losing manpower.
However, this comes at a cost: no overlapping time zones for meetings, potential cultural and language barriers, and dissimilar legal and regulatory systems that can lead to data protection and copyright issues.
Nearshoring
In nearshoring, companies hire outsourced teams in adjacent or neighboring countries. Companies in the United States may hire teams in Mexico because the legal systems, time zones, language and cultural elements, and work schedules are often very similar. This presents numerous benefits, especially for project-based outsourcing, while still allowing for hefty cost savings.
Onshoring
Companies can even outsource within their domestic bounds. If a company needs one-time project support or consultative help from an expert team, it may work with a third-party team within the same country. One common example of this is MSPs, third-party services that help organizations build and manage their tech stacks.
Bonus Type: Multi-Sourcing
Depending on the size, complexity, and needs of your organization, having just one type of outsourced team may not be enough. Enter multi-sourcing: using multiple types of outsourcing all at once. For example, your organization may outsource tech support services on an ongoing basis while also outsourcing for a one-time development project.
IT Outsourcing Types Based on Models and Tasks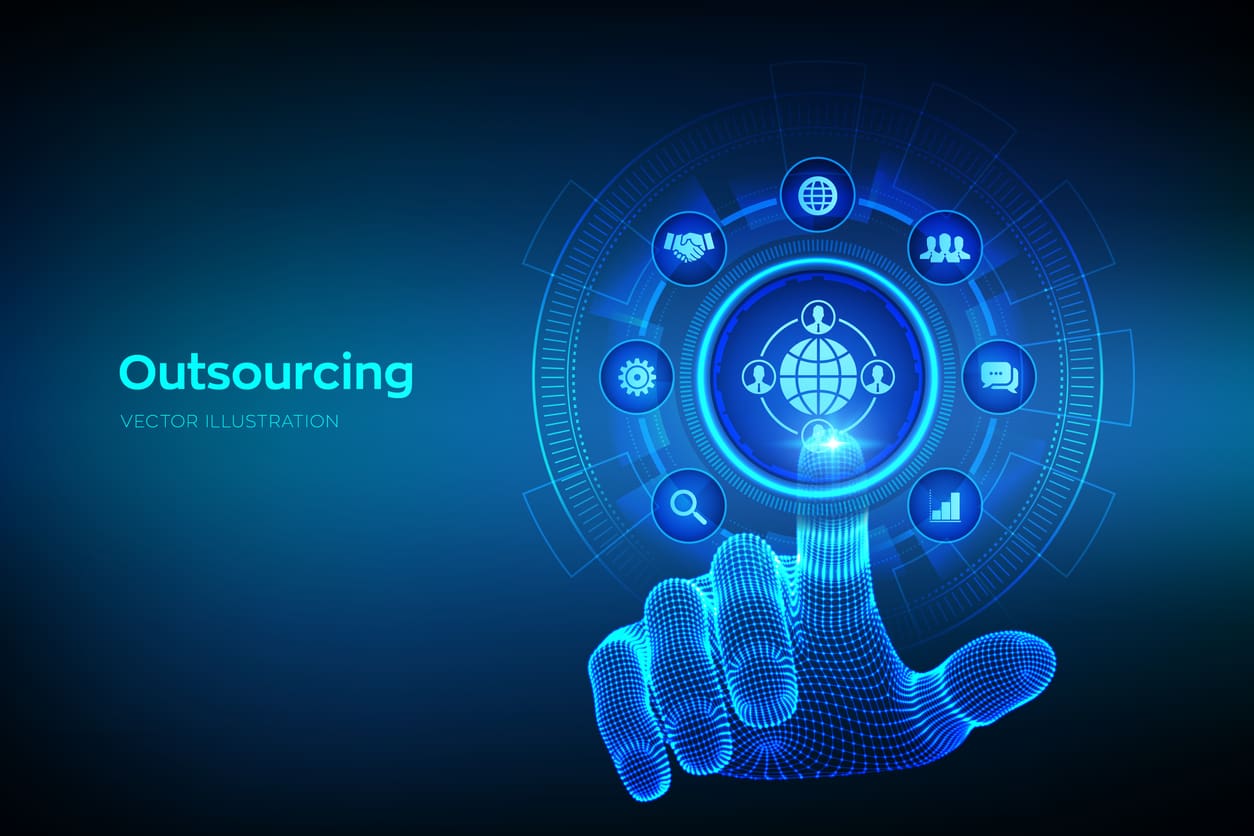 Location is one common way of distinguishing between types of outsourcing. The core functionality is another. Some of the most common types of outsourcing based on the work you want to outsource are:
One-Off Projects: Project-Based Outsourcing
If you have a core operational team but have a one-time product development project, your team may not have the coding, QA, or project management skills you need. Instead of hiring internal experts, you can outsource the project to an outsourced team. This allows your internal IT employees to continue performing in their existing roles while ensuring you can access expert professionals for the project. You can also modify this approach so the project is wholly handled by the outsourced team, managed in conjunction with an internal team that isn't large enough for the whole project, or managed by an internal team with niche tasks and sub-projects outsourced to area experts.
Ongoing (But Fairly Predictable or Cyclical) Needs: Dedicated Team Outsourcing
Outsourcing to a dedicated team is like having your internal team—without the added HR, employment benefits, and administrative tasks. Depending on the size and needs of your organization, you might outsource customer tech support, internal and customer-facing cybersecurity operations, or all of the core IT functions of a business. The possibilities are virtually endless. Dedicated team outsourcing lasts throughout the term length of the contract, so you can start, stop, or grow on demand.
Catch-All: Staff Augmentation
Staff augmentation is a bit of a middle-ground, miscellaneous type of outsourcing. You may have an internal IT team, but you need additional staff during a big migration project or if your company is rapidly expanding. Your company may have outgrown a complete IT outsourcing solution, but you need a temporary CIO and support staff as you build the right long-term C-suite for the company. Staff augmentation is designed to fill the gaps, whether that's for ongoing growth, a short-term upheaval, or periodic projects.
What Are the Five Major Drivers of IT Outsourcing?
Each of the above types of outsourcing can bring significant benefits to your organization, especially if you consider both the geography-based and work-based types. For example, you may need a nearshore dedicated team or onshore staff augmentation. Zeroing in on the right classification can help make hiring the team outsourced team much simpler. To further zero in on the right option, consider these major drivers of adopting IT outsourcing:
Virtual and Remote Work
Since the pandemic, workplace norms have significantly shifted. Companies drastically modified work processes to facilitate virtual and remote work. Now that companies know it's possible, they can branch outside of locally available professionals. Nearshore teams, for example, can video call, instant message, generate reports, and complete coding projects just as easily as teams in your main office's town.
Limited Downtime (Especially for a Global Client Audience)
This is where off-shoring and multi-sourcing shine. If you need to have 24/7 tech support to serve customers or field offices around the globe, outsourcing means you always have a team ready to work. By positioning teams so you have 24/7 professionals but each team is only working during the standard work hours, everyone wins on productivity and work-life balance.
Expertise That Exceeds Internal Expertise
You have good employees. But even the best employees can't know everything—and the ones that come close may be out of your hiring budget. When you incorporate outsourcing into your recruitment, project management, and business strategies, you have another avenue for ensuring you have the right level of expertise in your organization. This is especially valuable for short-term expertise demands, such as a one-off project.
Cash Flow and Predictable Cost Forecasting
Hiring employees comes with unpredictable costs: recruitment costs, hiring packages, administrative costs, and potential liabilities or claims against your company. Outsourcing has much more predictable costs month after month, so you can forecast expenses and set a more knowledge-based budget.
Scalability
For many organizations, it's not enough to just grow. Increasing your output through more effort or more internal staff is an option, but the increased administrative costs of managing a larger organization can decrease the marginal utility. With outsourced teams, you can easily increase the size of operations without hiring additional HR and administrative staff along the way.
Also, if revenue is low and you know you need to make cuts, decreasing your outsourced resources is simpler and less costly than downsizing internal teams.
What Is the Most Common Type of IT Outsourcing?
The answer varies, but one of the most common types of IT outsourcing is off-shore programming outsourcing. Many companies use this to complete projects with internally determined parameters, offload the less creative aspects, and reduce the cost of a programming project. However, outsourcing organizations are rapidly growing to help support any type of project or staff augmentation needs through nearshoring options that provide more advantages.
Where Are the Best IT Outsourcing Companies in the World?
There is no one best option for IT outsourcing. The answer will vary based on your needs and locations. This is a good thing—it means you can find the team that is the best fit for your needs. You can work with organizations experienced in finding the right teams and individuals for your specific needs. For example, you might filter your search based on these considerations:
If You Need Project Support: Adjacent to Your Timezone
Nearshoring offers clear advantages for project-based outsourcing needs. You and your internal decision-makers can easily communicate and work in parallel with similar hours.
If You Need 24/7 Customer Support: Not Adjacent to Your Timezone
When you're looking for around-the-clock staffing, opt for off-shoring. Try to position several teams around the globe so every timezone is covered.
If You're Expanding Localized Services to a New Market: Near That Market
Localization can be challenging, especially if you're reaching new markets that are far away or unlike your core markets. In these circumstances, find off-shoring and nearshoring teams that are positioned locally for your audience. This can help the final product make more sense and better serve the needs of that market.
How to Find the Best IT Outsourcing: Work With ParallelStaff
At ParallelStaff, we work hard to pair you with the right outsourced team for your organization's needs. With nearshore staff augmentation, project fulfillment, or dedicated teams powering your organization's IT needs, you can grow at scale and reach new markets faster. Contact us today to get started.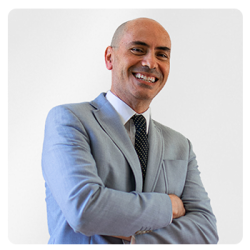 Latest posts by Miguel Hernandez
(see all)