When your company needs IT, you don't always have the right people on your team. Most companies have small IT teams, often between one and five people, who effectively keep the lights on, the firewall up, and the internal systems working. But what do you do when your business needs a large-scale upgrade, migration, or to meet the IT needs of a demanding project? Your IT team that's been holding the line may not have the skills or the extra hours necessary to take on enormous, temporary IT demands. That is where IT staff augmentation comes into play.
With staff augmentation, you can temporarily expand your IT capabilities. This is without the usual hiring delay or committing to a permanent large IT department when the immediate IT demands are complete.
What Does IT Staff Augmentation Mean?
Staff augmentation involves bringing on temporary team members using an outsourcing or quick worker model. Working through a staff augmentation partner, you source already selected, skilled, and trained professionals who will step in when needed. They will also step back out when you're ready to return to 'business as usual' with your on-staff team.
IT staff augmentation takes this model in a unique direction. You also focus on temporary staff and the occasional need for advanced and specific IT skill sets. You don't need a database architect or a migration specialist every day. Still, you might need one for a few weeks or months during a necessary transition period or to create the infrastructure for a project or company technology integration.
Staff augmentation is ideal when you have a temporary yet vital need for IT experts.
IT Staff Augmentation vs. IT Staffing: What's the Difference
There are two crucial differences between IT staff augmentation and more traditional IT staffing when looking to fill the demand for IT talent.
How soon do you need extra IT talent available
How long will you need different IT talent on the team
IT staffing is the answer if you are willing to wait a few months and will need more IT long-term/permanently. However, if you need immediate IT expertise added to your team and won't need them forever, then IT staff augmentation is the ticket.
IT Staff Augmentation vs. a Managed IT Service
Another essential difference is between IT staff augmentation and a managed IT service. Managed IT services can provide staff augmentation but require you to take out a long-term contract for IT support. This is only the best answer when the whole package is right for you. If you already have your routine IT needs taken care of in-house, IT staff augmentation allows you to access the on-the-spot IT support you need without the long-term service contract.
Surprising Benefits of IT Staff Augmentation
What are the benefits of IT staff augmentation that knock this option out of the park for the many businesses that need temporary IT expansion? You might be surprised how beneficial IT staff augmentation can be. This is when applied skillfully to your company's unique high-demand technical needs.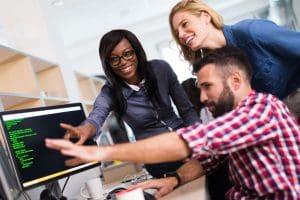 1) Access to Diverse IT Skills
IT technical skills are not a monolith that every IT tech has. There are hundreds of specialties and specific skill sets like cybersecurity, migration, different programming languages, UI/UX design, back-end functionality, connectivity, software project management, stack integration, etc.
When you reach out for IT staff augmentation services, you gain access to an incredibly diverse range of IT skills through the professionals you may bring on board. While your on-staff IT team likely has the skills needed to keep your current IT infrastructure strong, IT staff augmentation allows temporary to work with specialists who can quickly achieve complex processes outside your on-staff expertise.
2) The Ability to Make BIG IT Changes Immediately
Do you need to migrate your business from local and hosted resources to the cloud? Do you need to switch up which enterprise software your workflow is based on, completely rebuild your cybersecurity defenses, or perhaps push a project that requires a custom-built software infrastructure? These are substantial tech projects that most supporting IT departments aren't equipped to handle. They may need more people and specific expertise that your on-staff team can't provide.
With IT staff augmentation, you can bring on the right experts and several technicians to swiftly tackle large-scale IT changes and projects. Immediately tackle your cloud migration. Moreover, rebuild your cybersecurity defenses without waiting for your on-staff team to have the time or do the research required to leap.
3) Cost-Effective Expansion
IT staffing is one of the most costly types of hiring in today's short-labor economy. Competitive compensation for full-time IT employees is more than most companies are comfortable spending in the current economic climate. However, IT staff augmentation allows you to temporarily and affordably expand your IT team to the size and skillsets you need. Then, shrink back down as soon as the exceptional levels of IT work demand have been completed.
You only need to pay for the time you need expanded IT staff. You also get to skip the expenses of recruiting, interviewing, and onboarding new team members because your staffing augmentation provider has taken care of that part for you.
4) Superior Flexibility for IT Goals
You don't have to limit your IT staff augmentation to just one project. Maintaining a relationship with your staff augmentation partner, you can call in temporary IT staff whenever you have unique IT goals. This gives you greater flexibility in updating and changing your company's tech infrastructure. It allows you to embark on new projects with an IT component without overtaxing your on-staff IT department or investing in specialists that you might only need for one project – or one project at a time.
5) Fresh New Perspective
Lastly, bringing new people onto your team is always an opportunity to gain new perspectives. While your research and experience may have pointed you in specific directions regarding your tech solutions and goals, your temporary IT experts may have valuable insights and a fresh perspective on what will work best for your company.
Consider IT staff augmentation an opportunity to speak with many temporary consultants who will get to know your company's technical infrastructure and apply their knowledge and background when seeking the best solutions or suggesting the best process to complete your stated goals.
Why Do Companies Use IT Staff Augmentation?
Companies use IT staff augmentation when they cannot meet their technical needs in-house. Most businesses keep a small IT department, often between one and five people, to maintain systems and provide internal IT support. If you had a completely uneventful year, on-staff IT might be all a company needs. However, in a quickly evolving digital landscape, often a company will require large projects, migrations, mergers, or updates that go beyond the routine duties of on-staff IT.
This is when companies call on IT staff augmentation to temporarily access a larger IT team and the skills of tech specialists to accomplish specific high-demand and short-term company goals.
Examples of When to Use IT Staff Augmentation
There are many great examples of when to call on IT staff augmentation to ensure your company's goals are met swiftly and skillfully. IT staff augmentation can be used whenever your IT needs temporarily exceed the job descriptions or monthly demands of your on-staff IT team, who oversee your company's daily technical needs.
Digital Transformations

Updating from archaic systems like print-outs and file folders to modern digital methods

Cloud Migrations

Migrating from local and hosted architecture to cloud-based systems

Major Software Stack Changes

Migrating or updating the core software used by your company

Significant Software Updates

Major updates that require extensive backups and roll-outs to implement

Infrastructure Rebuilds

Important changes to your company's tech infrastructure

Cybersecurity Overhauls

Rebuilding or implementing new cybersecurity measures

Projects with a Unique Tech Component

Embarking on projects that will require more IT support or development than usual

Peak Season That Puts High Demands on Your IT Team

High-demand times of year that overtax your on-staff IT department

Company and IT System Mergers

Company mergers that require meshing two different IT systems
Is IT Staff Augmentation Right for Your Business?
Regarding IT staff augmentation, the question is not so much "If" but "When."  There will come a moment when your IT demand spikes. You will need a large and rapid IT process completed, like cloud migration or a change in your software stack. You will best accomplish that by temporarily swelling the ranks of your on-staff IT department. Bringing in experts with specific skills and more technicians to tackle a large-scale task will not only take the pressure off your in-house IT team but also ensure that your temporary IT need is completed with the most excellent expertise and professionalism that the industry can provide.
Contact us today to access IT staff augmentation exactly when and where you need it.
Latest posts by Mike Hernandez
(see all)