Unless your business specializes in IT services, there's a good chance that your IT department is a small, functional one. You might have a small team that maintains your systems and can fix certain problems, or even outsource most of your IT needs to an external tech support service. Your company's staff augmentation needs are defined by your sector, the size of your business, and the specific way your team uses technology.
You also need a plan for how to deal with the occasional spike in IT needs, like changes in your software stack or cloud migration. It's important to be aware of IT staff augmentation, IT outsourcing, and the differences in what each can offer your business to best meet your needs. At Parallel Staff, we can help you keep up with both your routine and temporary IT demands each year.
Staff Augmentation Companies
Staff augmentation is when you bring on temporary IT experts and technicians to augment your current IT staff. The temporary IT pros will become a part of your team, working with you on-site for projects or large-demand seasons, for however long you need additional IT support. Staff augmentation is often called upon for large yet temporary IT demands like infrastructure rebuilds, cloud migration, company mergers, and other temporary yet high-demand IT projects where you need extra IT support for a short period.
IT staff augmentation can focus on bringing in experts with unique specializations like cybersecurity or cloud infrastructure, or you can augment your staff with IT generalists who can handle a large volume of tech work – like data migration – for a short period.
Related Post 👉 Is IT Staff Augmentation right for your business?
Related Post 👉 Scaling Your business with IT Staff Augmentation: A Step-by-Step Guide
Staff Augmentation Companies: What is an Example of IT Staff Augmentation?
One of the best examples of IT staff augmentation is cloud migration. Right now, millions of companies are going through the process of migrating their systems from local and hosted server infrastructure to a distributed cloud network. This means rebuilding everything on new platforms, including new cybersecurity protocols, and integrating their business software with new server structures.
It's a big task, but it also only needs to be done once before you can resume business as usual on the new cloud-based system. In this case, you would bring in both a larger IT team and a few cloud/software specialists temporarily until the task is complete. They will become a part of your team and augment your IT department, then say goodbye when the migration is done.
Staff Augmentation: Why Do Companies Use IT Staff Augmentation?
Companies use staff augmentation because they temporarily need more IT than is kept on staff augmentation. On-staff IT team members tend to provide maintenance and everyday support if you have on-staff IT at all. But it's unreasonable to ask them to take on enormous projects like migration or one-time development that are both added to their usual workload and may be outside their specific skill sets.
Staff augmentation allows companies to temporarily bring on specialists or expand their IT team without the time and financial barriers of hiring or the need to commit to keeping the expanded team after the temporary increase in demand is over.
What is IT Outsourcing?
IT Outsourcing is when a company contracts with a pre-assembled external IT team to provide either routine IT support or deliver on a one-time project. Outsourcing is different from staff augmentation because the team functions as a separate unit rather than sending people who temporarily become a part of your team. You gain access to all the experts on the outsourced team but don't pick and choose which experts are on the team.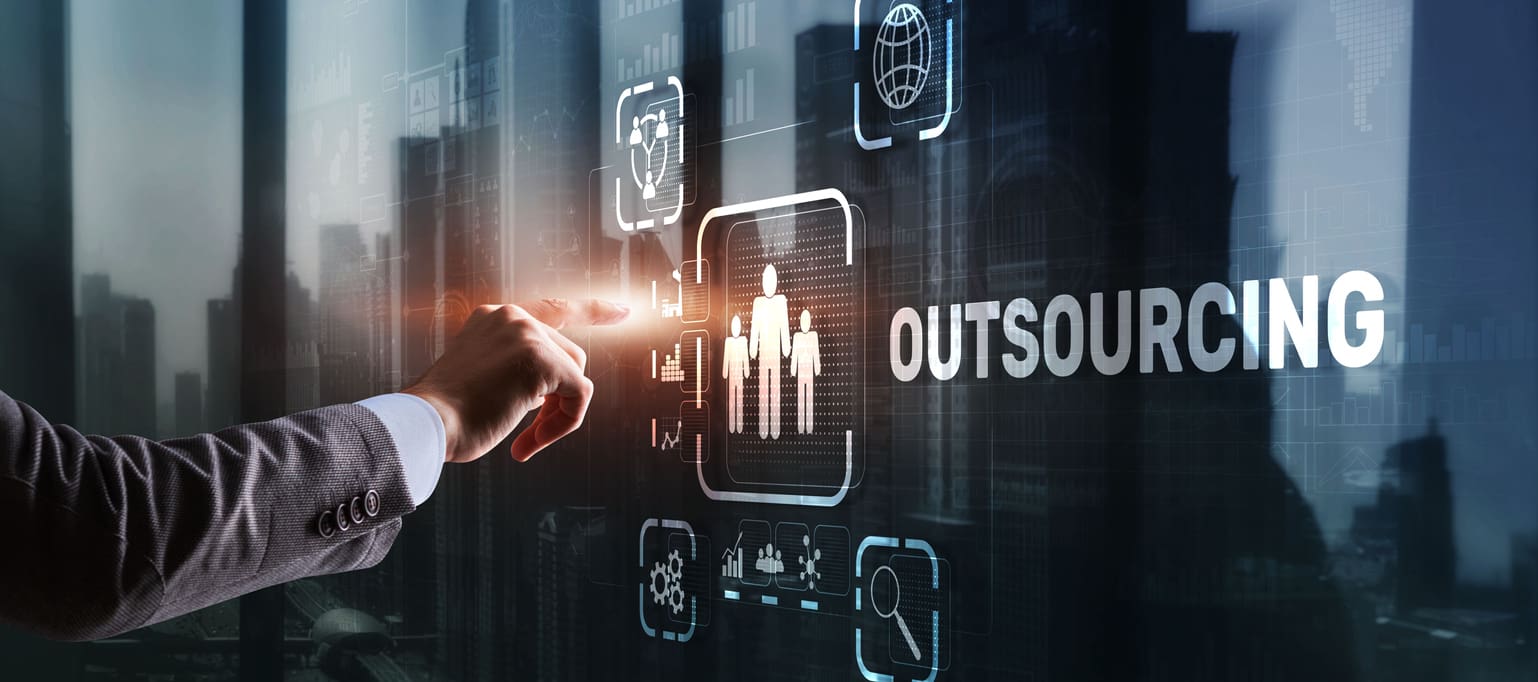 IT Outsourcing means sending out your IT needs, and the outsourced team returns the results. They do so remotely if they manage your routine IT needs with occasional in-person installations, repairs, or consultations. If they deliver a project, like software development, they will develop it inside their team and deliver the final product.
Some Examples of  IT Outsourcing?
Two good examples of IT outsourcing represent two ways to outsource.
A company hires an external IT team in Managed IT Outsourcing to provide routine IT support. The outsourced team is an external IT department that maintains computer systems, sets up software stacks, provides updates and maintenance, and answers the phone to help with problems.
On the other hand, IT Project Outsourcing is when you commission a tech project from an external IT team and accept what they deliver back. If you need custom software developed, you receive updates until the software is complete and then enjoy the product – but your in-house it will not have developed the software.
Why Do Companies Use IT Outsourcing?
Companies use IT outsourcing to gain access to an IT department without forming (or expanding) their IT department. A restaurant, for example, doesn't need a whole IT department but a capable team to manage its website and keep its internal computer systems working properly. A warehouse logistics company may not need an IT department, but they might need custom inventory software or APIs developed to streamline their work.
Companies with on-staff IT may also outsource to expand their capabilities and access a larger IT department than they can or need to support internally.
IT Project Outsourcing vs. IT Staff Augmentation: Pros & Cons
How do you know whether IT outsourcing or IT staff augmentation is the right answer for your business needs? This can be a tough choice because both have the capabilities to fulfill a vast range of business IT requirements. Outsourcing externalizes the entire process, asking an externally managed team to deliver results your company will benefit from. IT staff augmentation keeps everything in-house while building your effective IT department with new talent and greater technician numbers.
To determine the best solution for each situation, it helps to have a clear view of the pros and cons of project outsourcing and staff augmentation.
Pros of IT Project Outsourcing
IT Project outsourcing offers the benefits that come with externalization. The team is self-formed and self-trained and only offers what they know they can deliver. Deadlines tend to be contractually agreed upon, and project management is encapsulated within the outsourced team. Outsourcing provides access to tools, equipment, and skillsets but is more rigid.
No concern about hiring or specific skills needed for each project
Provides their own equipment and dev environment
Decreased management costs in time, staff, and money
Potentially more scalable
No distractions from your core business when IT occurs externally
More likely to hit deadlines with established delivery contracts
 IT projects are delivered complete and fully tested before implementation
Internal limitations or turnover do not impact the delivery schedule
Cons of IT Project Outsourcing
The downsides of IT outsourcing are the lack of direct connection to your business operations and the rigidity of an outsourcing contract.
 Less control or direct oversight over the project
Mainly cost-effective for routine support and large projects
More likely to require specific integration steps instead of being integrated into the development
Staff Augmentation Pros
Staff augmentation assists in strengthening your internal ranks with targeted skill sets. It also provides extra technicians for tackling larger problems or projects. The advantages include seamless integration with your systems and a stronger connection to your brand and team. Additionally, staff augmentation offers more flexibility to adapt to changing goals and deadlines.
Work directly with your team to develop internal solutions
More control and oversight over development
Projects are inherently integrated with your system
Flexible deadlines and goals as the project is explored
More control over the exact skills and numbers that make up your team
Potential to form direct professional relationships with expanded IT members
Staff Augmentation Cons
The cons of IT staff augmentation involve several factors. One issue is the need to host a larger IT team internally. This contrasts with the option of externalizing project management. Because of this, staff augmentation may be less scalable but also more connected than outsourcing.
Higher management capital on your part
Can distract focus from core business operations, involving your on-staff IT in projects
The need to onboard and train augmented team members on your systems
Potentially less scalable
Relies on your space, equipment, and dev environment
Parallel Staff Can Help You With Both Augmented and Outsourced IT Services
Expanding your IT capabilities is crucial for solving problems, tackling projects, and providing better support. Knowing your options and selecting the right IT solution for your needs is essential. Parallel Staff offers both internal IT staff augmentation and external IT outsourcing. We help you choose the best option based on your business structure and IT requirements.
Not sure? Meet with us for a consultation to explore your business structure and the scope of IT projects or problems. Discover the solutions you want to tackle. Parallel Staff can help you build a plan using IT staff augmentation, IT outsourcing, or even a hybrid of both. Let us take your business to the next level.
Contact us today to learn more and get started on your ideal IT solution.
Latest posts by Rick Wallace
(see all)