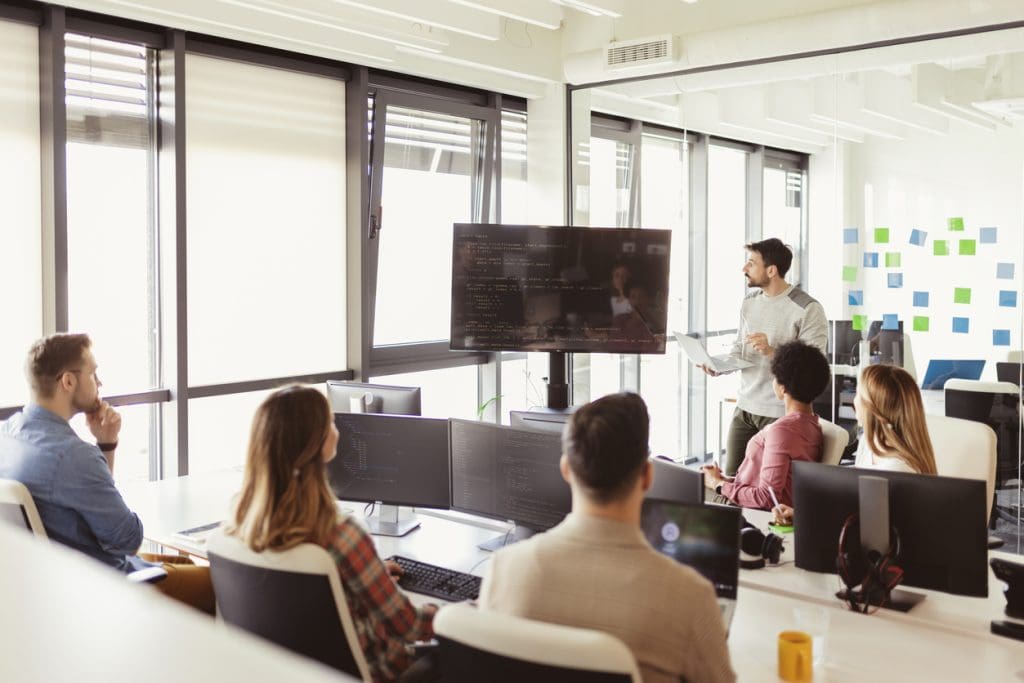 Software development projects require months of immersive work from a skilled team of devs. Building that team is a process of selecting the people with the right skills, abilities, as well as perspectives to meet the needs of your project. But how you build your team can shape the long-term impact of development on your business. Do you need an in-house team for your software development projects, or would it be better to hire a dedicated team through an outsourcing service?
ParallelStaff can help you determine whether you will benefit more from an IT-dedicated team vs. an in-house team for your software development needs.
Dedicated Teams vs. In-House Teams for Software Development
What is a Dedicated Team in Software Development?
Cost Efficiency and Budgeting Your Software Team
Access to Diverse Skills and Expertise
Project Management and Collaboration
Flexibility and Adaptability
Making the Right Choice: ParallelStaff as Your IT-Dedicated Team Provider

What is a Dedicated Team in Software Development?
To start comparing dedicated vs. in-house development, it helps to define what a dedicated team is first.
Dedicated teams are outsourced, but they don't work on other projects. An outsourcing partner like ParallelStaff will help you put together a team of external software developer contractors who will work exclusively on your project until it is complete. In fact, you can even arrange for them to stay on to provide support and updates if you plan for an ongoing development cycle.
A dedicated team offers the immersion, control, and focus of an in-house team with the benefits of outsourcing like flexibility and cost-effectiveness. You can also hire nearshore pros outside your national borders and, if desired, prearrange the team to dissolve when your project is through.
In contrast, an in-house team is built from people who are directly hired by your business and who will become full-time employees. These employees will also stay with you past the completion of the initial software project to work on future projects or provide ongoing support.
Cost Efficiency and Budgeting Your Software Team
One of the most important considerations for software development projects is the budget. If you need to develop a custom piece of software, it's important to consider the costs of outsourced vs. in-house development.
In-House Costs
Office space and equipment for an internal software department
Recruiting, hiring, and onboarding
Full-time employee compensation and benefits
Ongoing employment when the project is through
IT-Dedicated Team Costs
Usually remote and self-equipped
Streamlined hiring process
Contractors instead of full-time employees
Nearshore developer cost savings
Option to dissolve the team when the project is through, or keep going
The Scalability Advantage of IT Dedicated Teams
IT-dedicated teams are a popular choice because they offer a cost-effective solution to software development projects. In addition to the advantage of hiring nearshore contractors for as long as you need them, you can also scale your team up or down at will, without going through the expense of new in-house hiring or the stress of lay-offs.
ParallelStaff's Competitive Pricing and Flexible Models
With ParallelStaff as your trusted staffing partner, you also gain the advantage of flexible pricing models based on the size and location of the devs you need. We make it possible to quickly build a software development team from around the world while optimizing your development budget.

Access to Diverse Skills and Expertise
The skills you can build in an internal development team vs. what you have access to through outsourcing can be vastly different. In-house teams should provide the skills you need to maintain internal systems or work on projects that never end. When outsourcing, you can hire exactly the specialized skillsets you need for each project. You will also have a far wider range of selections both inside and outside your country.
The Benefits of Specialized IT Talent
Specialized talent is also extremely useful when building custom software development projects. When you want to provide unique experiences, you may need access to skills that are outside the normal cookie-cutter model that everyone else is using.
You may want people who can do amazing things with JS for your website app, or mobile native developers who can use data access like no one else. When outsourcing, you have access to global talent to find that perfect specialist for the unique features and experiences you want to create.
Expanding Skill Sets with IT-Dedicated Teams
Hiring specialists in-house is also committing to needing that specialty in the long term. However, with an IT-dedicated team, you can build your team based on a wide range of skills, and adapt that team composition for each subsequent project.
You can bring on a different set of specialists for each project or, just as easily, build a strong cohesive bond with a diverse team built for the exact needs of your company's software.
ParallelStaff's Wide Range of Expertise for Your Projects
ParallelStaff cultivates a diverse pool of IT professionals who represent a wide range of expertise. Let us know the skills you want to see and we will recommend a superb group of skilled developers, technicians, as well as admins to build the perfect team.
Project Management and Collaboration
Do you have the same amount of control over a dedicated team vs an in-house team? Interestingly, the answer is Yes! Your project manager can work directly with a dedicated team just as easily as they could with an in-house team.
In-House Project Management
Choose between, remote, or hybrid teams
Immerse the team in your company culture
Manage directly through your project manager
Oversight over every process, milestone, and final delivery
Dedicated Team Project Management
Usually remote, but can become hybrid
Dedicated to your company for as long as you need. They will learn your company culture and values without distraction.
Managed directly through your project manager
Oversight over every process, milestone, and delivery
As you can see, the only primary difference between an in-house and a dedicated team is their location. In-house hires are usually within your country and can be hired nearby to achieve an on-site or hybrid schedule. Dedicated teams are more likely to be global, and therefore remote with occasional visits to your office. Other than that, both types of teams are immersed in your company culture, learn your values, and are directly overseen by your project manager.
The Importance of Effective Communication Strategies
Software development projects require effective communication between team members. This is true no matter what model you use. However, a dedicated team will be prepared to tackle the remote working environment and may be familiar with collaboration software. A project manager who is good at coordinating a development team will help their team to thrive.
ParallelStaff's Seamless Integration and Collaboration Approach
Dedicated software development teams built by ParallelStaff will already have experience with collaboration, thanks to our seamless integration approach. ParallelStaff specializes in building outsourced teams that smoothly become part of your company through superior communication, collaboration, as well as quick adaptation to your business routines.

Flexibility and Adaptability
In-house teams are structural and purpose-built to last. On the other hand, dedicated teams are inherently more flexible and adaptable due to their outsourced nature. If you are seeking to build a software development team that can easily adapt to changing demands, new tools, or diverse software projects, a dedicated team may be the better choice.
Scaling Your Team to Meet Project Needs
You may need to grow your team based on your software development project needs. Your project may get bigger over time, or you may need an expanding set of features to meet the needs of your audience. An outsourced software team can more easily scale to meet your project needs compared to local hiring.
The Agility Advantage of IT-Dedicated Teams
Dedicated teams have the advantage of adaptability as well. Many are ready to remain agile, learning new skills or switching out when your need for one set of skills replaces another. Dedicated teams can help you adapt quickly to changing project demands or from one project to the next.
ParallelStaff's Commitment to Adaptability and Client Success
No matter what your project needs or if those needs change, ParallelStaff can help. We are committed to creating adaptable teams to ensure every step of your software development is handled by the right people at the right time.
Making the Right Choice: ParallelStaff as Your IT-Dedicated Team Provider
When building a software team, your company can benefit from working with a staffing partner who knows how to assemble IT-dedicated teams from all over the world. The flexibility, access to specialist skills, and cost savings of a dedicated team often outshine the long-term model of an in-house development team. ParallelStaff can find, vet, and assemble exactly the dedicated team you need to meet each of your software goals.
Evaluating Your Software Development Needs
The process starts by evaluating your software development needs. Are you building one superb app, a suite of software, or a comprehensive platform? Is your target audience customers or business clients, or will your software be used internally? What technology and interface do you prefer, and what kind of features do you want to create?
The answers to these questions will help us determine the skillsets, personalities, as well as timeline that will best suit your software needs.
The Benefits of Working with ParallelStaff
Nearshore hiring
A choice between hiring, staff augmentation, and dedicated team assembly
Cost-savings and flexible pricing models
Pre-vetted technical experts
Teams that are ready to collaborate and integrate smoothly
A custom-tailored solution for your needs
Ensuring the Long-Term Success of Your Software Development Projects with ParallelStaff's Expertise
ParallelStaff is anything but a one-size-fits-all operation. Every staffing solution is tailored to your precise needs, whether you want to expand your internal staff or build a unique team to fulfill a special software development goal. We will ensure your long-term project success by helping you build the perfect team for the job.
ParallelStaff is the best option for software development teams and projects. Book a meeting with us today and start building your dedicated team!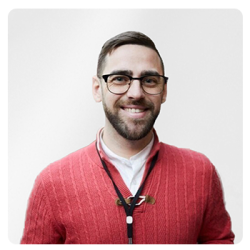 Latest posts by Richard Wallace
(see all)